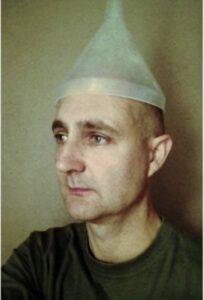 Tim Willcocks is a photographer working with analogue and digital media, with a particular interest in abridging or altering the usual photographic processes to create original work.
The themes of memory, postmemory, and conversations across time and place shape Tim's thinking and inform his practice, which is frequently influenced by his interest in the surreal.
Tim trained as an advertising and editorial photographer at the Medway College of Design, and has a fine art based Masters degree in Photography (Distinction) from the University of Brighton.
In 2019 the BBC featured Tim's One Shot project on their website.  Tim was a finalist in the AoP Open Awards in 2019 with his photograph 'Grace after surgery'.  Work from Tim's Inanimate Reason project was selected by LensCulture in 2022 to be exhibited in the Summer Open Editors' Pick online gallery.
Contact email tim@timwillcocks.com
COPYRIGHT NOTICE

 Copyright © 2022 Tim Willcocks. The copyright in this website and the material on this website (including without limitation the text, computer code, artwork, photographs, images) is owned by me, Tim Willcocks.