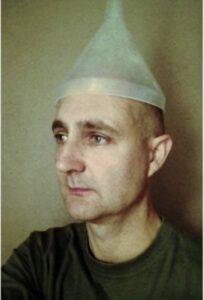 Tim trained as an advertising and editorial photographer at the Medway College of Design, and has a fine art based Masters degree in Photography (Distinction) from the University of Brighton.
In 2019 the BBC featured Tim's One Shot project on their website.
Tim was a finalist in the AoP Open Awards in 2019 with his photograph Grace after surgery.
Work from Tim's Inanimate Reason project was selected by LensCulture in 2022 to be exhibited in the Summer Open Editors' Pick online gallery.
In 2023 a photograph from the series Remembering Fire was featured in the Valentine Editions online gallery.
The title photograph from Tim's  'Fall/Rise' project will appear at the Shutterhub 'To the Sea' exhibition at St Gilles Croix de Vie in France from October 2023 to October 2024.
To enquire about commissions, artist talks, collaborations etc., please email tim@timwillcocks.com
COPYRIGHT NOTICE

 Copyright © 2023 Tim Willcocks. The copyright in this website and the material on this website (including without limitation the text, computer code, artwork, photographs, images) is owned by me, Tim Willcocks.